New Year's resolutions are known to fall by the wayside just as quickly as they begin. Old habits die hard. The exercise routines, juice cleanse, and promises of a healthier fresh start can easily be put on the backburner. In a recent study, researchers found that in 2022:
26% of people planned to lose weight

24% of people wanted to exercise more

21% of people want to eat healthier 
No matter where you are on your health journey – you can still use your health insurance to meet your health goals. But how? It's simpler than you'd think. Let's dive in. 
MEC Coverage 
Minimum Essential Coverage (MEC) plans meet the minimum requirements for an insurance plan to be considered compliant with the Affordable Care Act (ACA). All applicable large employers (ALEs) with 50 or more full-time employees must offer 95% of their full-time employees ACA-compliant benefits. If they don't provide this coverage, ALEs are liable for fines and penalties by the Internal Revenue Service (IRS). Read more here on why offering MEC benefits is more affordable than not.  
The three tiers of MEC options available are: 
Standard MEC plans

are ACA compliant and include coverage for wellness, preventative services, prescription discounts, and telehealth services. 

Enhanced MEC plans

take coverage one step further than standard plans and are aimed at attracting and retaining top talent by also including primary and urgent care visits with low copays, and discounted specialist and laboratory services. 

The highest-level MEC plans

include the enhanced MEC plan benefits along with added coverage such as prescription coverage and low copays. 


How To Use Health Insurance to Meet Health Goals
Your health insurance can lead you toward the right steps to keep yourself healthy. Preventative care can help keep you and your healthcare team ahead of potential chronic illnesses. Catching diagnoses such as high blood pressure, or other similar conditions early can help avoid them becoming more serious down the road.
By using your health insurance resources, you are actively using the tools readily available to you to meet your health goals. Let's unpack how a basic MEC plan can help you achieve your health goals. 
Annual Physical 
One of the best ways you can support your health goals is by visiting your primary care provider annually. This appointment helps you consistently monitor your physical health year over year. During a physical, your healthcare provider will examine you to check for any underlying conditions you may not be aware of before they become more serious or potentially deadly. 
In a poll taken by Kaiser Health, 92% of Americans do believe in the importance of an annual physical, but only about 62% of Americans actually take advantage of their annual physical. 
If your healthcare provider identifies an issue during your visit, they can then help you identify the best course of action for treatment or refer you to a specialist. 
Vaccinations 
Routine vaccines are another great way to help your body stay healthy and strong against viruses and bacteria that cause illness. 
Vaccines help develop the body's immunity and create stronger defenses to fight against disease. According to the CDC, "Every year thousands of adults in the U.S. become seriously ill and are hospitalized because of diseases that vaccines can help prevent." 
Receiving your routine preventative and wellness vaccinations can:
Lower your chance of getting certain diseases, like how the Hepatitis B vaccine lowers your risk of liver cancer 

Lowers your odds of spreading disease to others 
Click here to see the CDC's recommended vaccine schedule. 
Telehealth
Virtual visits are a great way to speak with a healthcare professional to continue making the healthiest decisions for yourself. Seeking expert advice can help you know how to best care for yourself, and know when it is a good idea to see a physician in person. 
Having a telehealth visit before an in-person exam can help the healthcare provider prepare for your visit, and understand what you may need in case you do need to go into the office. It also reduces the time you take to physically go to the appointment, wait in the waiting room, and return home. 
Your health journey isn't yours alone. Use resources like telehealth visits to maximize physician resources. 
For more information on how to make the most out of your telehealth visit, read our article here. 
Prescription Discounts  
Medication can be expensive. Let your health insurance support the cost of necessary medications that keep your body healthy and functioning properly. Using your insurance prescription discount can help save hundreds, if not more, dollars on medications that some may not be able to live without.
Certain providers may be able to offer generic options for brand-name drugs to save you money while still getting you the medications you need.
Screenings/ Bloodwork 
Take advantage of the screenings and bloodwork panels included in your preventative care and wellness insurance plans. These screenings and bloodwork exams were created for a reason– to flag any potential illness before it becomes an issue. 
The Bottom Line
Catching a chronic illness or disease before it becomes more difficult to manage is one of the best outcomes of preventative care. 
Use to resources that your health insurance offers to keep yourself healthy. Taking advantage of these preventative care services are small manageable opportunities for you to implement your New Year's health resolution throughout the year.  
Looking for more information on minor medical coverage? Read our article here.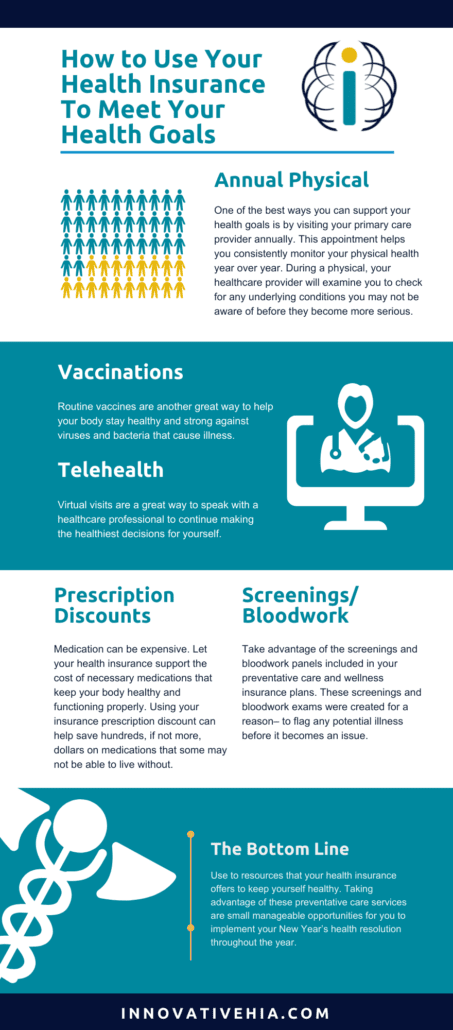 Article originally published on SBMA Benefits.
https://innovativehia.com/wp-content/uploads/2022/03/Untitled-design-1-copy-5-1.png
924
1640
Amanda Rogers
https://innovativehia.com/wp-content/uploads/2020/08/InnovativeHIA_logo2-1030x407.png
Amanda Rogers
2022-03-20 20:49:37
2022-03-11 21:00:39
How to Use Your Health Insurance To Meet Your Health Goals