Employee benefits administration can be a pain for any HR department. At Innovative HIA, we aim to simplify the process, by giving you access to everything you need in one place. Our enrollment portal houses everything you need for:
Onboarding 

Off boarding 

Enrollment 

Portal assistance 
Our employee benefits professionals have the knowledge and expertise that can save your company time and money. We aim to offer comprehensive benefit management, not only with our portal, but also as it pertains to ACA compliance, providing low-cost options, and offering fast and reliable service.
The convenience of SBMA's employee benefits administration support allows your Human Resources department to work on their daily tasks and responsibilities without the headache of a difficult benefits administrator. Our one-stop-shop portal helps reduce the paperwork your HR department has to deal with and therefore, improves your bottom line.
Employer Resources
Our website is equipped with plenty of employer resources that give easy and secure access to your records and the ability to make plan changes at your fingertips (i.e. (enrollment portal, adding dependents, employee termination, and more). Adjusting benefit plans couldn't be any easier with SBMA. Additionally, every task includes video tutorials, walkthroughs, and instructions. 
Watch the videos below to see just how easy navigating our portal is. 
Enrollment portal walkthrough
Adding Dependents walkthrough 
Termination walkthrough 
Partnering with us takes the burden off of your HR department and places it on us, your benefits administrator. Ready to get started? Reach out to us today.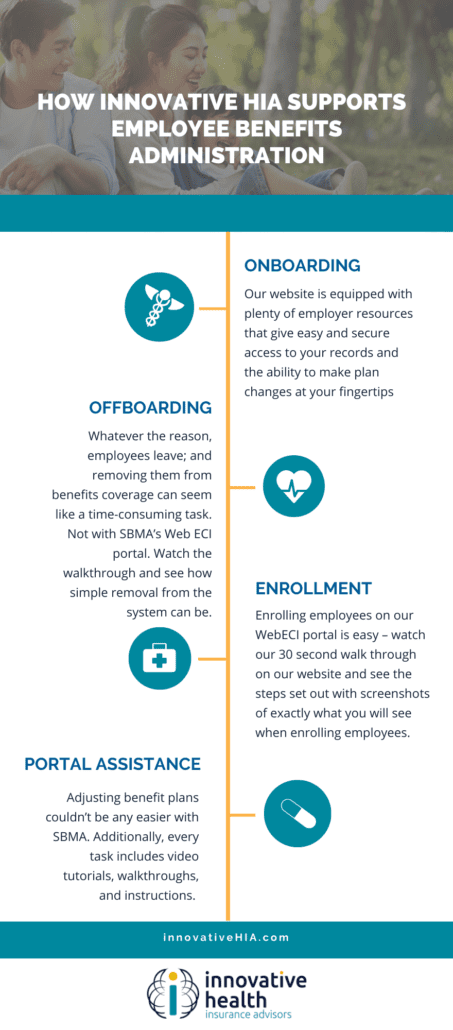 Article originally published by SBMA Benefits.
https://innovativehia.com/wp-content/uploads/2022/05/Untitled-design-2-copy.png
924
1640
Amanda Rogers
https://innovativehia.com/wp-content/uploads/2020/08/InnovativeHIA_logo2-1030x407.png
Amanda Rogers
2022-05-15 22:12:34
2022-05-06 22:50:16
How does Innovative HIA support employee benefits administration?