Attention Brokers: Are you offering your ALE clients the most affordable Minor Medical Coverage (MEC)? How can you offer your applicable large employers a one-stop shop for all their needs? Benefits are no longer about simply meeting Minimum Essential Coverage options.  You need to offer worksite and voluntary benefits, telehealth options, call center availability, and easy portal management. Why should you offer these options to your employers? Because they want them.
In order for employers to attract and retain great talent, they need great benefit options. This means going beyond standard Minor Medical requirements and offering services that provide value and attract the best workers.
Let's Start with Voluntary Benefits
Worksite and voluntary benefits include accident insurance, term life insurance, critical illness insurance, and hospital indemnity.
Accident insurance includes aid in payment for medical and out-of-pocket expenses that may occur due to an accident occurring.

Term life insurance includes a way to provide financial protection for loved ones while employees are working.

Critical illness insurance adds a safety net for those who are under-insured.

Hospital indemnity benefits help to offset high deductibles and out-of-pocket expenses so a hospital stay does not become a financial crisis.
Next, Consider Offering Your Employees Access to Telehealth Care 
With 24/7 access to doctors, telehealth–also known as Virtual Health–can help employees get care when they need it with added convenience. At Innovative HIA, we offer telehealth options that include behavioral health and therapy access, to give employees the ability to speak to a therapist whenever they need it.* In addition, it helps employees receive necessary prescriptions without having to go to a doctor's office.
Employers look for convenience when looking for benefits, as a broker you can provide a one-stop-shop for all your ALEs benefits needs. This means 24/7 call center support and easy access to portal management, single-point billing, and US-based customer care.
At Innovative HIA, we offer portal management access to provide employers with the ability to make plan changes, order ID cards, and have them shipped within a few days, check their claim statuses, and give employees the ability to manage their own profiles.
With bilingual call center support, you're getting licensed representatives to help manage enrollment and provide year-round support. All of our representatives are in-house, which means they understand your client's needs.
Innovative HIA can provide a one-stop shop for all employers to handle their benefit needs. As a broker, it is your responsibility to provide your employers with the best possible options for their needs. Contact us to learn more!
For more information on how we support employee benefits administration, read our article here. 
Article originally published on SBMA Benefits.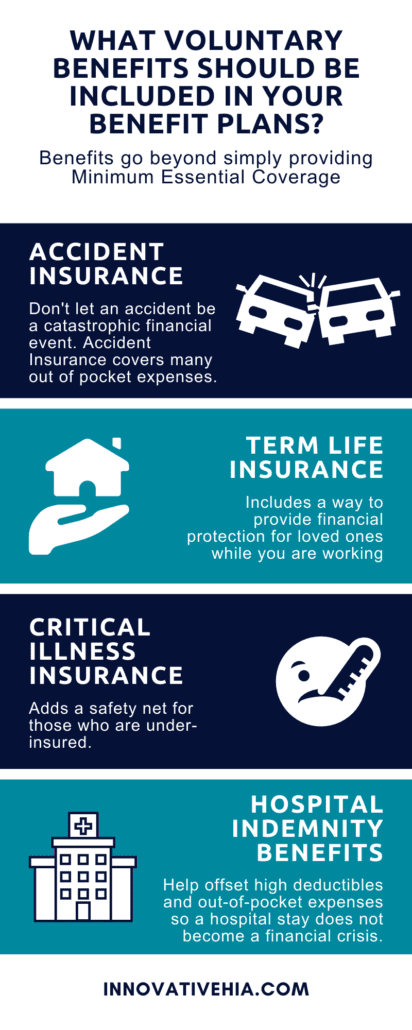 https://innovativehia.com/wp-content/uploads/2022/02/Untitled-design-copy-4.png
924
1640
Amanda Rogers
https://innovativehia.com/wp-content/uploads/2020/08/InnovativeHIA_logo2-1030x407.png
Amanda Rogers
2022-02-11 18:37:38
2022-06-03 19:54:39
Attention Brokers: Are You Offering Your ALE Clients the Most Affordable MEC?