Why Invest in Health Insurance for Your Employees?

A study found that 70% of people don't feel valued by their workplace. In that same study, 25% of people believed that their productivity at work would improve if they received employee benefits. When you show your employees you value their hard work, they will be more likely to strive to perform better. It's part of why investing in health insurance for your employees is so important. 
Investing in health insurance is essential to ensuring a happy and healthy workforce. Navigating employee benefits that your employees actually want, can be a challenge. Not to mention the various requirements necessary for employers with 50 or more employees. So, why should you invest in health insurance for employees?
Learn more about Affordable Benefits, talk with one of our team members!
Employee Benefits Increase Employee Productivity
According to the CDC, employees who prioritize preventative care, such as annual check-ups, are more productive in the workplace. This may be attributed to a few different reasons. Whether they're taking less sick time, or they're less stressed about their health, improving focus on their work, whatever the outcome, is beneficial to you. 
As an employer, you want your employees to remain focused on their work to ensure ongoing success. Having to worry about their personal healthcare and that of their dependents drains their time and energy. While it can be time-consuming to set up proper health insurance, partnering with the right company can simplify the complexities involved.
Almost anyone in a management role knows the importance of employee morale in the workplace. A positive workforce yields positive results. One way to ensure your workforce remains positive is to provide benefits that match their needs. After all, employers who provide great benefits gain a better reputation for their business, while also increasing productivity, and decreasing turnover. 
When you partner with a broker who can guide you through the process seamlessly, health insurance doesn't have to be complicated. They can help select plans that are right for your employees, help set up your virtual benefits, and serve as a go-to resource to answer questions that your employees may have. 
Why invest in health insurance for your employees?
How can Ancillary & Voluntary/Worksite Benefits Attract and Retain Top Talent? 
In today's job market, employees require more than traditional benefit programs. Benefits like vision, dental, accident, term life, critical illness, and hospital indemnity insurance can provide your employees with additional coverage when they need it most.  These additional benefit options allow your employees to tailor their benefit coverage to their needs.
When employees are given the choice in their benefit programs, they are more likely to use them. And when employees use their benefits, as we said above, they are able to remain healthy and ready to work more often. 
Employees look for employers who offer voluntary benefits because these benefits give employees choice, they meet various needs of a diverse workforce, and they ensure employees remain financially stable. Offering voluntary benefits adds a level of insurance coverage that many workers have not previously had access to. Benefits beyond the traditional 401(k) and health insurance are vital to attracting the right talent for business. 
At Innovative HIA, we offer our clients comprehensive coverage that provides the complete solution for employers who want to provide affordable benefits to their workers. Service is our priority. We pride ourselves on our reliable, fast, and friendly team that makes compliance with ACA easy and affordable. 
You Remain Compliant with ACA Requirments – and Avoid Paying Hefty Fines
As an applicable large employer (ALE) you are required by the Affordable Care Act to provide benefits to 95% of your full-time or full-time equivalent employees. If you fail to do so, you will be subject to some pretty significant financial penalties. 
The Cost of Pentalty A 
If an employer fails to offer benefits to their full-time employees, they will be subject to a penalty of $2,700 per employee annually. Violations are assessed on a monthly basis. When broken down monthly, each month that an eligible employee is not offered coverage will earn you a $225. A large company with 5,000 employees that fails to provide proper benefits for its employees, could be subject to a $13,500,000 annual fine.
The Cost of Pentalty B
Penalty B is calculated for every full-time employee that was not offered minimum value coverage by their employer and went to the Health Insurance Marketplace and qualified for a premium tax credit. The annual penalty per employee in this scenario totals $4,060. Penalty B is also calculated on a monthly basis and when broken down to a monthly rate equates to $338.34 per employee. 
If a company failed to offer minimum value coverage to 100 ACA full-time eligible employees, or if the offered coverage was not affordable and they received a premium tax credit or subsidy on the exchange, the employer involved would be liable for an annual fee of $406,000.
At Innovative HIA, we have the most competitive affordable benefits available. We ensure the benefit plans you offer your employees are fully ACA compliant.  To achieve this, we process your 1094/1095s on your behalf. If there are ever any errors in your 1095 processing, we refile for you. No hassle to you, just compliant benefits.
Read on to learn more about how offering minor medical benefits is more beneficial than not. 
Article originally published on SBMA Benefits.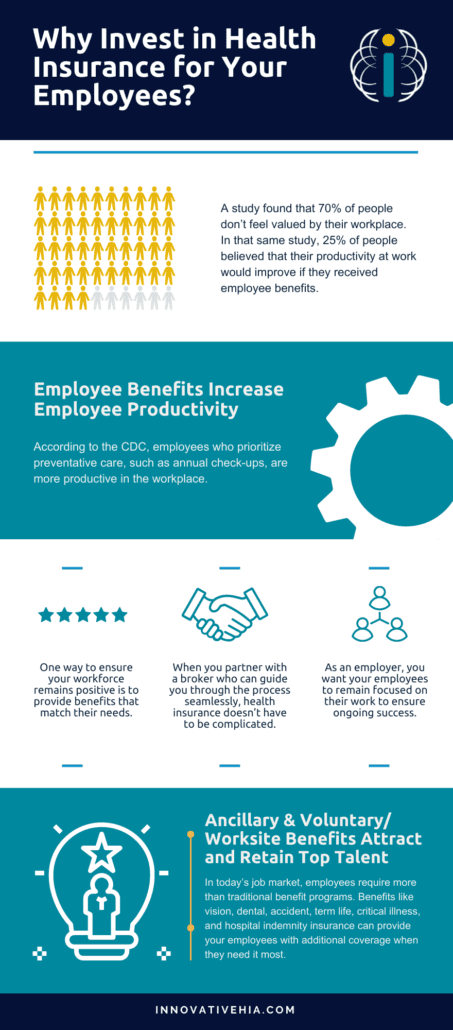 https://innovativehia.com/wp-content/uploads/2022/06/Untitled-design-2-copy-2.png
924
1640
Amanda Rogers
https://innovativehia.com/wp-content/uploads/2020/08/InnovativeHIA_logo2-1030x407.png
Amanda Rogers
2022-06-26 20:38:30
2022-06-03 20:51:42
Why Invest in Health Insurance for Your Employees?